Despite reports to the contrary, Tyler Christopher (Nikolas Cassadine) may not be leaving General Hospital later this year after all. But depending upon how you look at it, this may or may not be good news for the actor - and his fans.
Christopher was hopeful that his pilot, Secrets of a Small Town, would be picked up by ABC for its fall schedule. However, when the network released its schedule on Tuesday, the lineup did not include Christopher's project.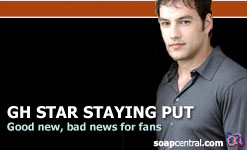 "Secrets," a soap-like drama that focused on a small town's secrets following the murder and kidnapping of two twin high school girls, would also have starred Denise Richard and Angie Harmon. In related news for General Hospital fans, the primetime show was created by GH co-head writer Charles Pratt, Jr. Pratt also serves as a consulting producer for Desperate Housewives.
"Unfortunately, ABC failed to pick up its most talked-about and second-highest-testing pilot," Christopher said in a message on his official web site. "Only [President of ABC Primetime Entertainment] Steve McPherson knows why."
Christopher joined the General Hospital cast in 1996, but left the show in 1999 to pursue other projects. He returned to the show in the Summer of 2003. Knowing that Christopher re-joined the show in the summer, it was widely assumed that that actor had at least another year left in his current General Hospital contract. However, Soap Central has learned that the actor's contract expires later this year. So while the actor will not be leaving the show immediately, it is still entirely possible that by year's end Christopher could be bidding farewell to Port Charles.