Christopher Extends GH Stay, But...
Posted Tuesday, June 27, 2006 11:08:40 PM
As reported last month by Soap Central, Tyler Christopher (Nikolas Cassadine) will be sticking around General Hospital. The actor had high hopes that a pilot he had filmed would be picked up for the fall television season. It was not, and Christopher's attention returned to his work on General Hospital.
Now, new details have emerged about Christopher's new contract and the possibility that, even with a new contract, Christopher might still be leaving daytime television.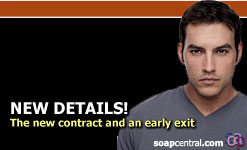 According to a statement on Christopher's official web site, the actor "did extend his contract for one year." However, Soap Central the extension date is retroactive to May, meaning that the actor is nearly two months into his new contract.
There is also word that Christopher's pilot, Secrets of a Small Town, is being considered by NBC -- the pilot was originally pitched to ABC -- as a mid-season replacement. If the series is picked up, Tyler could potentially end up leaving General Hospital anyway. A decision on "Secrets" is due within a few weeks.
"Secrets," a soap-like drama that focuses on a small town's secrets following the murder and kidnapping of two twin high school girls, also stars Denise Richard and Angie Harmon.
Christopher joined the General Hospital cast in 1996, but left the show in 1999 to pursue other projects. He returned to the show in the summer of 2003.