Though an official announcement from ABC will not be made until tomorrow, Soap Central has learned that Genie Francis (Laura Spencer) will return to General Hospital later this year - just in time to help the show celebrate the 25th anniversary of daytime television's most-watched event: Luke and Laura's wedding. The wedding, which aired in November 1981, was watched by 30 million people.
"We are very excited about Genie's return as we gear up to commemorate a quarter-century since the biggest milestone in the history of daytime television," said Brian Frons, president of Daytime, Disney-ABC Television Group.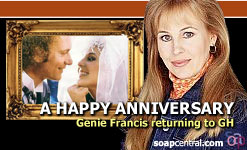 Now 44, Francis joined the cast of General Hospital at the tender age of 14. Much of Francis' career in daytime television has been spent in the fictional town of Port Charles. However, Francis took a five-year break from General Hospital in the mid-80s and early-90s, during which time she appeared on NBC's Days of our Lives and ABC's All My Children. Francis' official resume lists her years on General Hospital as 1976-1981, 1983-1984, October 29, 1993 to September 6, 2002.
When last spotted on General Hospital in 2002, Laura was catatonic in a mental institution after killing her stepfather, Rick. The show had already started laying the groundwork for Francis' return long before official talks between the actress and network execs actually began. This week, Luke will visit his now-ex-wife at Shadybrook. There was some initial concern that Francis had been demanding a huge salary in order to return to daytime television. A setside source was unable to confirm if Francis backed off her demands or if ABC shelled out the cash in order to accommodate its plans for a 25th anniversary bash.
"I am very happy to be returning to my General Hospital family and look forward to portraying a role that means a lot to me as well as the fans who have supported the character throughout the years," Francis said.
Last year it was also widely rumored that Francis would be returning to daytime television - but not to General Hospital. Sources indicated that Francis was up for a role on the top-rated CBS soap, The Young and the Restless. A CBS exec denied that Francis had even read for a role on Y&R, but the rumors were said to have made the folks at ABC stand up and take notice.
Throughout her storied career in daytime television, Francis has surprisingly amassed just a single Daytime Emmy nomination. That nomination, in 1997, came in the Outstanding Lead Actress category.
A first airdate for Francis was not immediately available. However, the actress is expected to reprise the role of Laura for a limited-run in October and lasting through the wedding anniversary on November 16th.