Rumors continue to spread regarding the future of Kelly Monaco (Samantha McCall) with General Hospital. The actress' contract is set to expire later this year and some fans are concerned that in this age of budget slashing, Monaco may be a casualty of the network's belt tightening.
According to sources familiar with the negotiation process, Monaco has requested that any new contract allow her more "outs," which are clauses that would allow her to pursue outside opportunities in addition to her work with the ABC soap. It is widely expected that ABC will accommodate Monaco's request.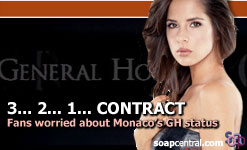 Salary, of course, is another issue.
In addition to her work on General Hospital, Monaco was the winner of the first season of Dancing With the Stars and a co-host of this year's 33rd Annual Daytime Emmy Awards.
Monaco joined the cast of General Hospital in October 2003, just a matter of days before the cancellation of GH spinoff, Port Charles where she played the roles of Livvie Locke and Livvie look-alike, Tess. The show made no mention to the fact that Monaco's current character was a dead ringer for her two Port Charles characters.
Monaco's Sam has been a front burner character since her debut three years ago. It has been reported that Sam continues to feature prominently in long-term storylines currently being developed.
Insiders are whispering that Monaco will remain with the show through the November Sweeps period before exiting the show. The actress is then expected to take some "down time" to rest up and, possibly, work on a few outside projects. It is widely expected, however, that she will return in 2007.
A General Hospital spokesperson stated that the network does not comment on actor's contracts.