Monaco headed for primetime... eventually
For several weeks now, fans of Kelly Monaco (Samantha McCall) have been waiting to find out if the actress would renew her contract with General Hospital or dance away with the hopes of striking gold in primetime. Now, Soap Central can report that there is good news - and bad news.
First, the good news: Monaco announced during Super Soap Weekend that she would be remaining with General Hospital for the foreseeable future.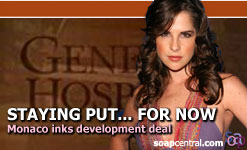 Now that pesky bad news: It is still entirely possible that fans will have to bid farewell to the Emmy-nominated actress in the upcoming months. Monaco reveals that she has been signed to a development deal with ABC. Essentially that means that the network will keep its eyes open for a role on a primetime show that would suit Monaco. If and when that role becomes available, Monaco could then make the move from daytime.
Now back to the good news again: Until that time, Monaco appears to be rooted in Port Charles.
"I did sign a primetime deal," Monaco announced. "That doesn't mean that I'm going to primetime; it means that they have the only rights to me if a show happens to come up. So if something comes up in the future, it will be a very smooth transition for me. If not, I stay where I am, which is the way that I wanted it because I love daytime and I love my job."
In September, Soap Central first reported that the end of Monaco's contract was near. Though it was widely assumed that the actress wanted to remain part of the GH cast, it was well-known that Monaco also wanted to test the waters of primetime television.
Monaco joined the cast of General Hospital in October 2003, after the cancellation of Port Charles. Monaco had starred in a dual role on Port Charles, portraying Livvie Locke and her look-alike Tess. The actress earned legions of new fans by appearing on - and winning -- the first season of ABC's "Dancing With the Stars."