What is your reaction to the news that Kin Shriner is returning to GH?


It's great. I love Scott and I'm glad they aren't recasting. I can't wait!
94%
I've never cared for Scott, so I'm really not thrilled by the news.
4%
I'm a Scotty fan, but I don't think that the timing is right for his return
1%
I don't have an opinion one way or the other about Shriner's return.
1%
As a newer viewer I am not familiar with Scott, so I can't offer an opinion
0%
Other
0%
Poll Posted: December 1st, 2006
General Hospital appears poised to continue bringing back its beloved veteran performers well into the New Year. Hot on the heels of returns by
Genie Francis
,
Rick Springfield
and
Finola Hughes
comes confirmation that
Kin Shriner
(
Scott Baldwin
) will return to the show just in time for the February Sweeps. And with Shriner's return comes a very secretive "new storytelling technique [that] will be used, a first in daytime."
Speculation surrounding Shriner's possible return has been bandied about on the 'net for several months. Viewers wondered if the actor would reprise his role in time for the 25th wedding anniversary of Luke and Laura. Back in 1981, Scotty emerged from the shadows to catch Laura's - his ex-wife -- wedding bouquet.
"As we continue the story that began with Laura's return, it was a logical choice to bring back another legacy character that viewers want to see and allows us to tell another chapter in the emotional story that surrounds these characters," said ABC Daytime President Brian Frons in a statement.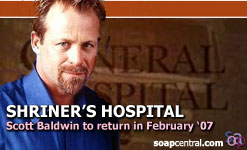 Shriner has made a habit of coming and going from General Hospital over the years. He first made his GH debut in 1977, but left the show in 1980. He returned the following year before again leaving in 1983. After a five-year absence, Shriner returned to the fictional town of Port Charles and remained with the show through 1993. From 1997 to 2001, Shriner took the role of Scotty to GH spinoff, Port Charles. As Port Charles' ratings waned, Shriner was brought back to General Hospital full-time and remained with the show through February 2004.
"I look forward to returning to the General Hospital family," Shriner added. "The fans are going to be very excited to see my character return to town with a well-crafted and edge of your seat storyline. Some very important questions about Luke, Laura and Scotty will be answered."
Since leaving General Hospital, Shriner has appeared in a three-month-long gig as Harrison Bartlett on The Young and the Restless. Shriner then popped up in what was to have been a short-term role as Keith Morrissey on As the World Turns. Shriner ended up clicking with ATWT viewers and remained with the show for nearly a full year.
It is believed that Shriner's return, like many of GH's other "legacy characters" before him, will return only for a brief period of time.
Shriner will return to General Hospital on January 30th.