Whispers that Vanessa Marcil (ex-Brenda Barrett) will soon be returning to General Hospital have grown louder in recent weeks. However, the rumors are nothing new: Internet chatter has claimed that the Emmy-winning actress would be "returning" to the ABC soap ever since she exited the show in 2003
The latest round of rumors picked up steam with word that Marcil's current gig, the NBC primetime casino drama Las Vegas, was going to be cancelled. Speculation that an out-of-work Marcil might return to daytime for at least a short-term gig had some fans jumping for joy. But Las Vegas has beaten the odds and won renewal for a fifth season.
Though Las Vegas is one of the top-rated shows on Friday nights, it is far from a ratings powerhouse. Friday night is traditionally one of the lower-rated nights for television, as fewer people stay home to watch television. Las Vegas averages about 9.0 million viewers each week. Meanwhile, the top-rated shows on television, American Idol, CSI: Crime Scene Investigation and Grey's Anatomy routinely average more than 20.0 million viewers per episode.
A spokesperson for Marcil would say only that the actress is "contractually obligated" to Las Vegas.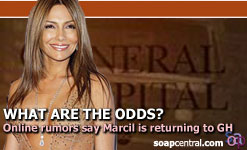 Even if Marcil does not return to General Hospital, some fans are hoping that the show recasts the role. Internet message boards are already a hot bed for possible recasts for the role of Brenda. Among the names that have been bandied about are Emmy winner Gina Tognoni (Dinah Marler, Guiding Light; ex-Kelly Cramer, One Life to Live) and Rebecca Budig (ex-Greenlee Smythe, All My Children). Tognoni's contract with Guiding Light expires this summer, but the actress has reportedly expressed interest in returning to One Life to Live. Both Guiding Light and One Life to Live are filmed in New York, so the actress would not have to relocate herself. Meanwhile, All My Children is intent on bringing Budig's former role back to the canvas. It is unclear if Budig would reprise the role.
Marcil originated the role of Brenda on General Hospital in September 1992. She remained with the show through September 1998 before taking a four-year break. She returned for a short-term engagement that ran from September 2002 to February 19, 2003. It was this short-term stint that earned the actress a Daytime Emmy win for Outstanding Supporting Actress in 2003.