In an announcement that the actor labels as either "unexpected" or "no surprise," depending upon your interest level in soaps, Ted King (Lorenzo Alcazar) has announced that he will be exiting General Hospital later this year. While the departure has been rumored for several weeks, King seized the opportunity to also dispel some rumors.
"For the casual viewer what I am about to say will be unexpected," King said in his statement. "For those who have watched closely however, this will come as no surprise; I am leaving General Hospital."
King has been a part of the General Hospital cast for nearly five years, having joined the show in July 2002 as Luis Ramon Alcazar. When his character was killed off in November 2002 - a move that show executives insist was always the plan - the writers devised a way for King to return to the show: a look-alike older brother. King returned to Port Charles as Lorenzo Alcazar in June 2003.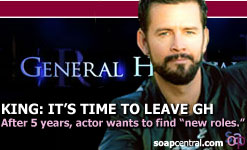 "I am leaving the show simply because it's time," King explains. "I need to stretch as an actor. I need to take on a new role. I have spoken to numerous executives at ABC and they have expressed their love for the work I have performed, and for who I am as an individual. They understand that I need to spread my wings as an actor and find new challenges. Many discussions have been had, and no one blames me for leaving the show."
Last year, rumors surfaced that King and Robin Christopher (Skye Quartermaine) would be written off of General Hospital and transitioned to sister soap, All My Children, a move that would have been a homecoming, of sorts, for both actors. Christopher's character originated on All My Children in 1987 and King previously appeared on ABC's Loving and The City, which was filmed in the same building as AMC.
King asserts that the move to another soap is not happening
"Over a good stretch of time, scenarios have been discussed that could keep me from leaving, or moving to other ABC shows, but at this time I am not interested in Lorenzo Alcazar going anywhere else," King stated.
"Ted King has decided to move on from GH after 4 years of playing the role of Lorenzo Alcazar and will be exiting the show as storyline dictates," a GH spokesperson tells Soap Central. "The cast and crew wish him the best in all of his future professional and personal endeavors."
King did not reveal when he would be exiting General Hospital nor what the show might have planned for his on-screen alter ego.