It's been three years since General Hospital fans were whispering about the possibility of three of the show's long-time vets being taken off contract. Now, just one of those performers remains with the show on a contracted basis.
After 33 years with ABC, Jackie Zeman (Bobbie Spencer) has been downgraded to recurring status. The status change became effective this month.
As a GH fan, do you want to continue seeing Bobbie on your TV screen?


Yes and there'd be story if GH focused on the hospital and not the mob.
40%
Yes. I find it hard to believe that the writers can't find a story for her.
37%
No. Bobbie has languished so long, taking Zeman off contract makes sense.
17%
I don't care for Bobbie, so I'm not really upset that Zeman's been let go.
3%
I have no opinion about Zeman being downgraded to recurring.
1%
I don't want to be selfish. I hope Zeman goes elsewhere where she's wanted.
1%
Other
0%
Poll Posted: December 24, 2007
As 2004 drew to a close
, Zeman and co-stars
Leslie Charleson
(
Monica Quartermaine
),
Stuart Damon
(
Alan Quartermaine
) were rumored to be on their way out. All together, the three stars tallied a combined 81 years with General Hospital at the time.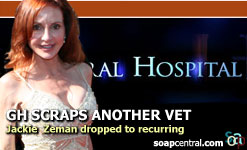 Fans, of course, already know that one year ago this week Damon was axed - but his firing upset fans so much that the show reworked storyline to allow Damon's character to hover around town as the human face of Tracy Quartermaine's conscience for several months after Alan's death.
Earlier this year at the Daytime Emmys, Zeman told Soap Central's Dan J Kroll that she wasn't too upset over her lack of storyline in recent years because she had so much to be thankful for during her long GH run.
"It's been a great ride," Zeman beamed as she reflected on her time with the ABC soap. "I've been on General Hospital for 30 years. I am so thankful and I am such a lucky girl. If there's story for me, there's story. If there's not... then there's no story. If the audience didn't want me then I wouldn't still be there [on the show.]"
Zeman signed on as General Hospital's Barbara Jean Spencer in 1977. Prior to that she had a one-year run as Lana McClain on One Life to Live and a brief appearance on The Edge of Night.