Long-time General Hospital star Shell Kepler (Amy Vining) passed away on Friday, February 1. A report on celebrity gossip site TMZ.com attributed the cause of death to renal (kidney) failure. According to the actress' online biography, she was 46. The medical examiner said the actress was 49.
Shell became a fan favorite on General Hospital as nurse Amy Vining, sister of icon, Laura Spencer. Amy's family had adopted Laura as a baby, so the two were raised as sisters. The bond between the sisters remained strong even after Laura left the Vinings to go live with her biological mother, Lesley Webber. Amy soon followed her sister to Port Charles and became a nurse at General Hospital.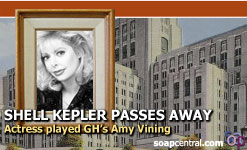 Amy had a penchant for gossip and trouble which were never in shortage at the hospital. Sadly, Amy never found true love. She remained single during all of the years on the show. The character was never officially written off. She last appeared in September, 2002. She and the rest of Laura's family were waiting for Laura at the church where Luke and Laura intended to re-marry. Luke and Laura never made it to the church. Luke had found Laura in the attic earlier that day along with the murdered body of her stepfather, Rick Webber.
Since last appearing on General Hospital in 2002, Kepler has lived in Portland, Oregon. She was involved in charity fundraising and was, by all accounts, an accomplished writer and savvy businesswoman. The actress turned entrepreneur and is believed to have earned millions of dollars each year through the selling of her Lacy Afternoon fashion line on the Home Shopping Network.
Born October 5th, in Painesville, Ohio, Kepler was inspired to become an actress after seeing The Wizard of Oz at the age of two. Her first foray into professional acting came in the theater where she starred in productions of The Prime of Miss Jean Brodie and The Sound of Music when she was a young girl living in Chattanooga, Tennessee. In the early 1980s, she fronted the band Shell and the Crush, releasing a five-song E.P. which contained songs like "Popular Girl" and "When You Look My Way".
General Hospital will pay tribute to Kepler with a special "In Loving Memory of Shell Kepler" scheduled to appear at the end of February 26th's episode.