Tongues are wagging about the possibility that three-time Daytime Emmy winner Rick Hearst (Ric Lansing) might be leaving General Hospital later this year. While the actor has stated that he doesn't have plans to willingly leave the show, he does hint that show execs might have other plans.
"I've got three months left on my contract," Hearst commented at the GH Fan Club luncheon in July. "We'll see if it's in the minds of our creators if I'll get a chance to go further. It would be nice. We'll see what happens."
Hearst is a veteran of a whopping five daytime drama series. He got his start on the soaps in 1989 as Scotty Banning on NBC's Days of our Lives. Though Hearst remained with the show for only two calendar years, it proved to be a stepping-stone into much bigger projects.
In 1990, Hearst joined the cast of CBS's Guiding Light as Alan-Michael Spaulding. He remained with the show for the next six years, picking up two Daytime Emmy nominations and an Emmy win in the process. In his first Emmy at-bat in 1991, Hearst was named Outstanding Young Man (now "Outstanding Younger Actor"). In 1992 and 1995, Hearst tallied nominations in the Outstanding Supporting Actor field. Even though it's been twelve years since Hearst left Guiding Light, many fans still consider Hearst to be the actor most associated with the role of Alan-Michael.
In 2000, Hearst joined The Young and the Restless as bad boy Matt Clark. Over the next year, Hearst caused trouble for the residents of Genoa City and ultimately provided one of the most memorable death scenes in recent soap opera history.
A brief run on The Bold and the Beautiful followed in 2002 before Hearst landed his current gig on General Hospital in November 2002. The actor has been pre-nominated for the Outstanding Supporting Actor Emmy by his GH peers every year since 2004. Hearst picked up two additional Emmys in 2004 and 2007.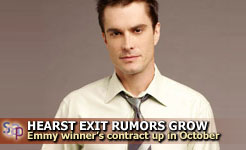 Despite having nothing but positive things to say about his General Hospital experience, Hearst may be experiencing a premature seven-year itch. The actor expressed concerns over repetitive story and a character that he fears may become stale.
"There's a lot I'd like to see happen with this character," Hearst noted. "I love this character. I've been blessed to play this character, but there are steps that need to be taken. If [the writers] are going to continue to dive into and revisit the relationships Ric has, we need to find something new. I can't continue to reinvent the wheel."
Hearst's contract is up for renewal in October. ABC does not offer comment on contract negotiations, but reaffirmed that "Rick Hearst continues to be a member of the General Hospital cast."