In a curt, one-line statement on her official web site, General Hospital star Sarah J. Brown (Claudia Zacchara) confirmed earlier this month that she has signed a new contract with the ABC soap. She has since gone on to give a much more detailed explanation about why she re-upped.
"Re-signing for me this time around was dependent on several major things — What's happening in the economy? Who would be writing the show this year and what kind of story did they have in mind for me?" Brown tells TV Guide. "I like having a steady job. It's nice for a change, and that was a big part of the reason I decided to stick around."
There had been speculation over this past summer that Brown would exit at the conclusion of her contract. Insiders had hinted that Brown was unhappy with her character's storyline, though Brown never made any such feelings known to the public.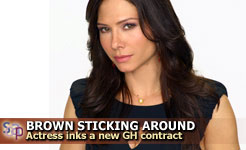 Brown returned to General Hospital in December 2007, first airing a month later. The actress had appeared previously as Carly Corinthos, originating the role in April 1996. Since leaving the ABC soap in April 2001, her former role had been recast three times -- and the show had no plans to ditch the current Carly, Laura Wright.
So, General Hospital's writers developed a new role for Brown as part of a new mob storyline that had worked its way to the forefront of the show's storytelling.
Brown's new contract is said to be a one-year deal, allowing the actress to remain on-screen through January 2010.
ABC does not comment on contracts.