According to whispers, General Hospital may be close to bring back a few more characters from its past. The firestorm of rumors were set off by Kin Shriner's (Scott Baldwin) recent visit to the GH set. According to at least one setside source, Shriner would return to General Hospital -- at least briefly -- to help reintroduce a character to the show's viewers.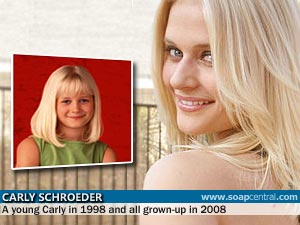 Soap Opera Digest hints in its most recent edition that General Hospital execs are seeking to bring back Serena Baldwin. Born in December 1992, Serena is the daughter of Scott Baldwin and Dominique Stanton. Serena was carried to term, however, by surrogate mother Lucy Coe because Dominique was dying and unable to carry a child to term. Shortly after Serena was born, Scott whisked her off to Canada in order to hide from the mob.
Serena resurfaced in 1997 on General Hospital's spinoff, Port Charles. When Port Charles went off the air in 2003, Serena headed off to Paris.
For all six years that Serena was on-screen, Carly Schroeder was the young actress that brought the character to life. Schroeder was twice nominated for the Young Artist Award for her work on Port Charles.
If and when Serena returns to Port Charles, don't expect to see Schroeder in the role. Setside chatter indicates that Serena will be "aged" and a new actress will be placed into the role. Since leaving daytime, Schroeder has gone on to star in several feature films and has also made guest appearances in primetime.
Oddly, this would also seemingly be the ideal time to bring back Lucy Coe to the show. Unfortunately, actress Lynn Herring recently inked a deal that will have her appear on CBS's As the World Turns for at least the next few months. In June, Herring expressed her disappointment that no one from ABC had asked her to return to General Hospital to reprise her fan-favorite role.
ABC does not comment on rumors.
---
---