There's a potential monkeywrench looming for Robin and Patrick's relationship -- and it, or rather she, will arrive in Port Charles just in time for November Sweeps.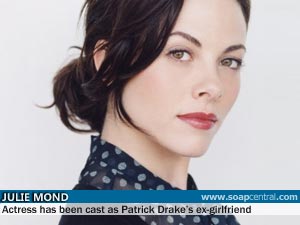 Newcomer Julie Mond has been cast in the contract role of Lisa Niles, the former girlfriend of Patrick Drake. A show spy tells Soap Central that Lisa is more than just a former fling for Patrick and her arrival could cause a lot of headaches for Patrick and Robin.
This will be Mond's first daytime role, but the actress will join the General Hospital cast with a handful of primetime credits and a respectable film career.
Mond has appeared in the shorts Ladies Room and Ground Control, as well as the feature films Something New and Hangman. Her latest project, Fugue, is currently in post-production and is slated for a 2010 release. On the small screen, Mond has made the rounds to the well-known procedural dramas, including Cold Case and CSI: NY.
Mond first airs November 18.
---