Natalia Livingston's (Rebecca Shaw) second go-round in Port Charles is about to come to an end. Livingston, who previously enjoyed a five-year run as Emily Quartermaine, returned to General Hospital in January as an Emily look-alike. A General Hospital spokesperson confirms to Soap Central that Livingston and her second GH alter ego are about to be written out.
"We were thrilled that we were able to get Natalia back for a second run, after her Emmy-winning turn as Emily Quartermaine," a General Hospital spokesperson tells Soap Central. "The character of Rebecca Shaw will soon depart the canvas and Natalia has decided to pursue other projects. A beloved member of the GH family, the entire cast and crew wish her well in all her future endeavors."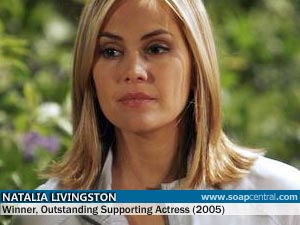 Livingston joined the cast of General Hospital in April 2003, taking over the role of Emily from fan-favorite Amber Tamblyn. Livingston remained with the ABC soap for five years, but her exit was not as smooth as the actress may have wanted. In June 2007, Livingston rejected claims that she was leaving the show. In a statement, the actress blasted what she called "sensationalist" web sites and print publications for making up stories about her status with the show.
Shortly thereafter, Livingston's character was killed off as part of a serial killer storyline. The actress, however, stuck around on the show for a few more months, appearing as a ghostly image. Livingston made her final appearance as Emily in May 2008. During her tenure with General Hospital, Livingston earned a Daytime Emmy win for Outstanding Supporting Actress in 2005.
"I leave GH with a sense of pride and fulfillment," Livingston told ABC Soaps In Depth. "GH has been a second home to me and I embark on this next chapter of my life with optimism and excitement."
A final airdate has not yet been announced nor has it been revealed how Rebecca will be written out.
Photo Credit: Adam Larkey/ABC