Laura Wright (Carly Jacks) is well on her way to having the distinction of being General Hospital's longest-running Carly. Wright recently signed a new multi-year contract with the ABC soap.
"I just signed another 4 years!!!" Wright tweeted on her Twitter page. "You guys are stuck with me."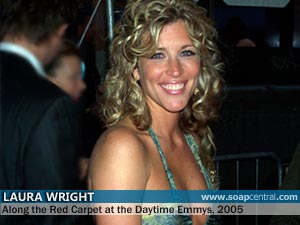 This month, Wright, who joined the General Hospital cast in November 2005, marks her fourth year with the show. Next year, she'll surpass the longevity mark set by the very first Carly, Sarah Brown. Brown originated the role of Carly in April 1996 and remained with the show for five years and two weeks. The two other actresses to play Carly include Tamara Braun, who followed Brown as Carly and remained with the show for four years, and Jennifer Bransford. Bransford preceded Wright, but was only part of the cast for a few months.
Prior to relocating to Port Charles, Wright appeared for eight years on CBS's Guiding Light. Wright got her start in daytime on Loving and its spinoff soap, The City. The actress' combined tenure on both soaps spanned from 1991 to 1997.
During her career, Wright has been pre-nominated for a Daytime Emmy on six different occasions -- three each for Guiding Light and General Hospital.
Photo Credit: Dan J Kroll/Soap Central