There are storyline changes coming to General Hospital, and it's not the first time this year that some last-minute changes have been made to tweak the tales that viewers see on-screen.
A General Hospital spokesperson tells Soap Central that the show has recast the role of Lisa Niles. In October, fans may remember reading here on Soap Central that newcomer Julie Mond had been cast as Lisa, a former girlfriend of Patrick Drake. At the time, a show source hinted that Lisa wasn't just some random ex-flame -- and her arrival in Port Charles would cause a lot of headaches for Patrick and Robin.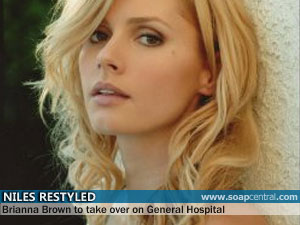 "Due to a change in direction for storyline, General Hospital has recast the role of Dr. Lisa Niles with actress Brianna Brown," the spokesperson tells Soap Central. "[She] will be first air Wednesday, January 6."
It is unclear at this time how the casting shuffle with alter the way the storyline had planned out. Typically, shows have been known to replace performers when they want to change a character's personality. For example, a character that has been shown to be polite and nice may be recast if they want that character to fake a pregnancy.
Though also a newcomer to daytime, Brown has a fairly extensive acting portfolio. She has made numerous guest appearances on primetime, including Criminal Minds, all three CSI franchises, and the former James Franco sitcom, Freaks and Geeks. Brown has also starred in more than a dozen feature films, such as Knocked Up, Night of the Living Dead 3D, and The 40-Year-Old Virgin.
Mond first aired on November 18. Brown makes her debut on January 6.
Photo Credit: Brianna Brown