Newly installed head writer, Garin Wolf, seems determined to keep his pledge to focus more on General Hospital's core families. The ABC soap has confirmed that soap vet Robin Christopher (Skye Quartermaine) will rejoin General Hospital next month.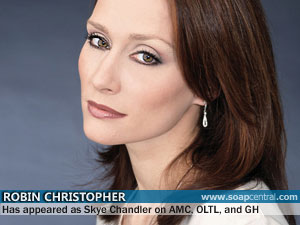 Christopher, a two-time Emmy nominee, has played Skye on three different soaps. Christopher made her debut as Skye in 1987 on ABC's All My Children. After four years with the show, Christopher left to pursue other opportunities. One of those opportunities included a role on General Hospital -- but it wasn't as Skye. In 1993, Christopher appeared as Abby Mitchell. From there, the actress joined the cast of Another World, playing Lorna Devon from 1994 through 1997.
After a few years away from daytime, Christopher reprised the role of Skye Chandler -- on One Life to Live. In 2001, Christopher began a seven-year run on General Hospital. In the process, Skye learned that she was not really a Chandler, but rather a Quartermaine. In January 2008, Skye left town to get away from the rampant mob violence in Port Charles.
Christopher appeared briefly on General Hospital in 2010.
Many ABC soap fans had been hoping that Christopher would make an appearance on All My Children -- cries that only got louder when ABC announced in April that AMC would be going off the air in September. Though the network will not comment, it has been reported that AMC execs did approach Christopher, and that the actress declined their offers.
Christopher, meanwhile, will make her on-screen return to Port Charles the week of August 1.