Thanks to a group of passionate soap fans, some animals in need received the gift of new beds. The gift became possible when fans of General Hospital star Julie Marie Berman (Lulu Spencer) raised money to purchase a gift for Berman's birthday. Knowing that Berman is an animal lover, those fans decided to use the money they raised to purchase pet beds from Better Buddies, a company founded by Berman and her husband, Mike Grady, and then donated those beds to the Best Friends Animal Society's animal sanctuary, which provides care for homeless animals.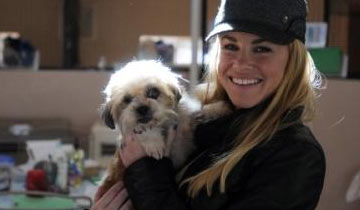 "Our experience at the Best Friends Sanctuary is always wonderful and fulfilling. But this last visit was more extraordinary as we were able to deliver a large amount of Better Buddies beds donated by Julie Marie Berman fans in honor of my birthday [on November 3]," Berman tells Soap Central. "When we came up with this company, we obviously had many goals in mind, but the idea of specifically helping shelter animals -- whether it be through promoting Best Friends, spreading awareness on spaying/neutering or adoption, or donating 10% of our bed sales -- was the largest trigger."
"Because of these wonderful fans, we had the opportunity to hand-deliver our beloved beds to both dogs and cats at the sanctuary, and actually witness the animals' enthusiasm for new beds," Berman continued. "I get an overwhelming amount of joy helping animals, and this recent opportunity to see our hard work providing comfort for homeless animals will go on as one of the proudest moments of my life."
"The experience was unbelievable," Mike Grady added. "The people, animals and the serenity of the entire place makes you want to keep coming back. It is a privilege to have the opportunity to work with Best Friends both as an individual and through our business Better Buddies. This year we were fortunate to have received a nice donation of beds from a supportive group of fans of General Hospital. To see the happy faces of all the dogs and cats that rolled around on some new comfortable beds was a lot of fun. Some of these animals have come from such terrible conditions, so to be able to support them in any way we can is a blessing."
In a visit to Soap Central Live in October, Julie Berman talked about how she learned of the need for adopting homeless pets, and how that eventually led her to start a business with a message of social responsibility.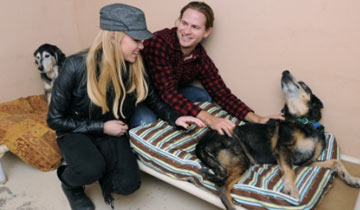 "When my husband and I were engaged, we were looking to get a dog. [...] So, the next thing I know I'm Googling the animal online, and there are hundreds of people breeding this animal, and they send it to you from purchasing it online. And it seemed like, 'Oh, this is maybe the new way people are getting their pets, with the Internet and that sort of thing.' I got my dog, and pretty much, in a nutshell, she had as many problems as a senior dog should have at this age," Berman explained. "And the only thing I can attribute it to is the fact that maybe she wasn't bred in a healthy situation, and I got some sort of a pet from a puppy mill. And I love my dog more than anything and I couldn't imagine having any other animal, but it did make me reevaluate how I want to go about purchasing a pet, and spreading the knowledge to everyone else who might be in a situation like me."
"[W]hen we were shopping for products for our own dogs, and we're buying these completely overpriced pieces of garbage for our dogs that get destroyed in two seconds, and we're paying a ton for things that just weren't good quality, let alone eco-friendly. And when the idea came, 'What if we did something? What if we started our own company -- what would we want the company to be?' Berman continued. "And the two obvious things to us at the time were, one, to donate some of the profits to an animal rescue organization that specializes in rehabilitation and sheltering these animals, and two, to make it eco-friendly so that we're proud of the product that we're putting out in the environment, and we're hopefully changing the way business models work, where the environment is put first in all of our choices that we make for these products and how we conduct our business."
Get more information about Better Buddies, please visit
Get more information about the Best Friends Animal Society