General Hospital will get the golden treatment from People magazine for its 50th anniversary. The ABC soap will be the subject of a special collectors' edition of the popular weekly publication.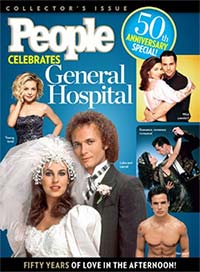 The cover of the collectors' issue features images of Maurice Benard (Sonny Corinthos) and Vanessa Marcil (Brenda Barrett), Finola Hughes (Anna Devane) and Ian Buchanan (Duke Lavery), Anthony Geary (Luke Spencer) and Genie Francis (Laura Spencer), Kirsten Storms (Maxie Jones), and Antonio Sabato Jr. (Jagger Cates). Inside, People looks at 50 years of Port Charles memories.
Celebrate the 50th anniversary of General Hospital, the longest-running scripted television drama currently in production. Reminisce with the Quartermaines and Spencers, the famed residents of fictional Port Charles, New York. Learn about the troubled marriages of the Hardys and Brewers during the show's early days in 1963. Revisit the wedding of Luke and Laura in 1981, the most watched event in daytime television history. Relive BJ's ultimate sacrifice, Emily's untimely end, and the tragic teen lives of Stone and Robin. It's all there in words and pictures: the stars, the storylines, and the pictures -- behind-the-scenes and in front of the camera. No wonder Princess Diana and Liz Taylor counted themselves among the millions of loyal General Hospital fans.


The General Hospital 50th Anniversary special collectors' edition of People hits newsstands on Tuesday, March 12, 2013, and will sell for $19.95. However, if you want to make sure that you'll get a copy, pre-orders are now being accepted on Amazon.com for $13.57 (and if the price drops between now and the release date, you'll automatically get the lowest price).