Kelly Monaco (Samanatha McCall) shared an Instagram photo of her bruised eye, the result of a tumble down the steps.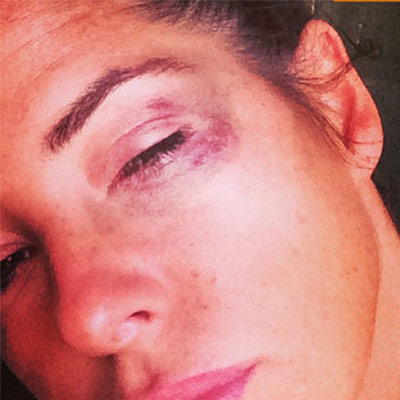 "My stairs and I don't get along. My eye is nothing compared to my back, hip and other parts of my body I wasn't aware existed," Monaco shared in a comment that accompanied the photo. "Note to self... No trying on shoes that have ice (not literally) for [soles]! My face hit the marble floor at the bottom of the staircase. #GH you have your work cut out for you tomorrow!"
The eleven-year General Hospital vet and two-time Daytime Emmy nominee will also be appearing as a over-the-top version of herself in the ABC Family sitcom Baby Daddy.
In other recent soap world injuries, Days of our Live star Freddie Smith, Jr., crashed a car near Cleveland last week, seriously injuring a passenger.
Send your get well wishes to Kelly in our Comments section, on our message boards, or by submitting Feedback.