General Hospital's Kirsten Storms has had to step away from the role of Maxie Jones several times over the years due to health issues, but her latest absence has caused quite a bit of frustration among fans who feel her absence is having a negative impact on GH storylines.
Certain hurtful comments from fans on social media led Storms to reveal personal information that she might otherwise have been unwilling to share: she has an ongoing struggle with depression.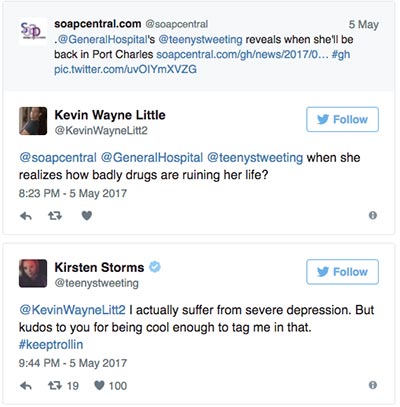 When one fan insinuated that drugs were ruining the actress' life, she responded with, "Actually, I suffer from severe depression."
When another wrote, "You are beautiful, but I get kind of tired of you not being truthful to your fans [about] what's going on," she responded with, "I try to keep my personal issues private. However, I recently mentioned on Twitter that I suffer from severe depression. If you or someone you know has dealt with it, then you know it can be a difficult time in life. I'm doing so much better as of late and look forward to returning to work soon."
The daytime star's social media accounts have since been flooded with support from fans and some have even opened up about their own struggles with depression.
In response to well-intended fans urging Storms to ignore the negative comments some viewers have posted, the actress wrote, "I could honestly care less about the few trolling negative people. They are just na´ve to the disease. I'm happy to be happy."
And happy the actress seems to be. After taking an extended break from social media following her departure from GH earlier this year, she returned to the Internet in April and has posted about several uplifting activities she's been treating herself to, including a makeover; spending time with her daughter, Harper; and even hanging out with her GH costars!
As for when Storms will be returning to GH, the actress wrote back in May that Maxie would be back "soon-ish." And a recent tweet may also indication that "soon-ish" could very well be quite soon.
"Had a really fun time shopping for more Maxie clothes with GH costume designer Shawn. #fancyhuh"
An estimated 15 million Americans will be affected by depression in any given year. If you are battling depression, you can call the Depression and Bipolar Support Alliance toll-free at 800.826.3632.
What do you think about Storms's reveal that she suffers from depression? How do you feel about her taking time off of GH to deal with her health issues?We want to hear from you -- and there are many ways you can share your thoughts.