If you're thinking of doing anything else but tuning in to Lifetime on Saturday, February 9, fuggedaboutit! That's the magic date the network has set for General Hospital star Maurice Benard's new film, The Victoria Gotti Story.
As Soap Central first reported, Benard is about to become a wise guy (i.e. made man) alongside greats like Marlon Brando, Al Pacino, and Robert De Niro in the role of John Gotti, a real-life Italian-American gangster who became boss of the Gambino crime family in New York City.
Executive produced and narrated by Gotti's real daughter Victoria Gotti the Lifetime film will take viewers deep into the world of the mob and show what it was really like to grow up as the daughter of mob boss John Gotti, revealing the glamour, glitz and unique hardships of her world.
Reports Deadline: "Sharing never-before-revealed stories about her life, Victoria (played by Chelsea Frei) tells of a sensitive child growing up with a beloved father (Benard) she worried about constantly; the tragedy of her younger brother's death; and her turbulent romance, forbidden by her father, with the man who later became her husband. Victoria had a front-row seat to a life the world became fascinated with, all while trying to reconcile the loving father she adored with a man the outside world was determined to bring down."
Benard is already receiving rave reviews for his portrayal of Gotti, who was one of the most powerful and dangerous crime bosses in the country. One review comes from Victoria Gotti herself, who tweeted: "Maurice Bernard is great! Ladies get ready!! To create. Write exec produce narrate and star in was an incredible experience!"
No need to consult a consigliere about the validity of Gotti's claims when it comes to Benard's acting skills: Gotti knows a thing or two herself about performing, having appeared as Alistair's (John Reilly) nurse on Passions back in 2004.
To catch Benard in the second role he was born to play (you Gotti be kidding if you don't know which role is the first!), tune in to The Victoria Gotti Story on Saturday, February 9, only on Lifetime.
UPDATE (December 18, 2018): People has released some new photos of the Gotti biopic. You can check out one of Benard below and you can see all of the photos here.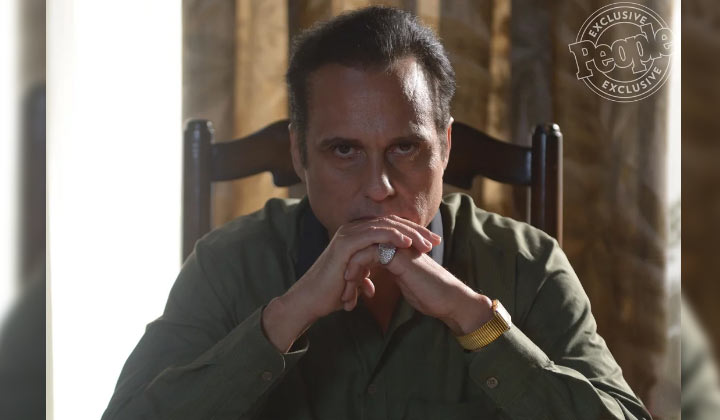 What do you think about Benard taking on the role of John Gotti? How much are you looking forward to the film? What do you think about Victoria Gotti's tweet hailing the actor's performance? We want to hear from you -- and there are many ways you can share your thoughts.