Lynn Herring on why the message of "hope and survival" in General Hospital's Nurses Ball episodes is exactly what we need right now
Posted Monday, June 01, 2020 7:13:49 AM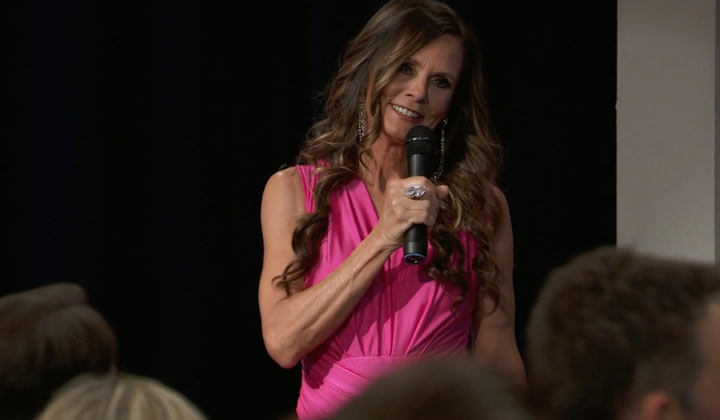 General Hospital fans haven't been able to see this year's Nurses Ball due to the coronavirus pandemic shutting down production of the ABC soap opera just before filming of the annual event was scheduled to begin. However, the daytime drama has been trying to keep the magic alive by airing three weeks' worth of throwback episodes featuring the singing and dancing extravaganza. The run of repeat episodes kicked off on Monday, May 25, and GH actress Lynn Herring (Lucy Coe) says there was no better time to give the soap's meaningful event a special showcase.
"I love that it's about togetherness because right now, that's all we've got," she tells Soaps. "The only thing I wish is that we could do some sort of prelude and do a salute to the nurses and the healthcare workers."
Herring reveals that she was expected on set to do wardrobe fittings for the 2020 Nurses Ball when the production shutdown was announced. She says that her first thought was sadness over the fact that her future daughter-in-law had to cancel her May 2nd wedding, followed by the seriousness of the situation.
"I suspected [the shutdown] was going to happen, but when it did, you almost want to scream 'No' as dramatically as possible," she recalls. "It immediately hit me: What are all these people going to do in our industry?"
Herring believes that the silver lining of it all may be that, with everything going on in the world, the throwback Nurses Ball episodes that are currently airing will be even more poignant to viewers.
"In the old ones, we brought in the AIDS quilt. The feeling of respect and somberness when the quilt showed up in some of the original Nurses Balls is the same feeling," Herring says. "You have such hope for humanity, but you're still aware of our fragility. I think there is that same feeling of hope and survival and maybe if we pull together, we can do some good."
For more from Herring on GH's Nurses Ball episodes and to hear some of her favorite memories from the soap's annual event, check out her full interview at Soaps.
What do you think about Lynn Herring's comments on GH's Nurses Ball episodes? Are you enjoying the throwback episodes that the ABC soap chose to air during the coronavirus pandemic? We want to hear from you -- and there are many ways you can share your thoughts.
MAKING HEADLINES: NEWS FROM AROUND THE SOAPS