Chamberlin's staying... but is Beth?
At the close of last week, Guiding Light viewers saw Beth Raines washed away in a torrent of water. It was just the latest disaster to hit the show - coming only days after a major earthquake rocked San Cristobel and left Reva buried alive.
There's good news and bad news for fans of Beth and her portrayer, Beth Chamberlin. The actress is not leaving the show - but no one is exactly sure how she will figure into the show's future storylines. In fact, even the actress hasn't been told what's going on.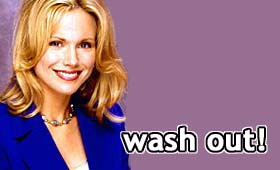 The role of Elizabeth Raines was created back in 1983 by actress Judi Evans Luciano. Evans held the role until 1986. Chamberlin took over the role in 1989 before leaving in 1991. She then rejoined the show in 1997 and has been playing Beth ever since.
Recapping the events of last week. A sudden rainstorm set of a flashflood. The raging waters swept Beth away, despite Edmund's fervent attempt to hold on to her hand. According to a GL insider, Beth's body will not be found -- and Beth will be presumed dead. This "death" will leave Chamberlin off-screen for several weeks. But rest assured, GL fans -- the actress will be back.
But when she returns, what role will she be playing?
GL execs are keeping that secret under wraps and even Chamberlin hasn't been told who'll she be upon her return to the GL set. The initial thought is that Beth's encounter with the raging rapids will leave her near death somewhere way downstream- possibly even suffering from amnesia.
A second school of thought has Beth Raines rendered dead by the flash flood. That would mean that Chamberlin would have to assume a new role - perhaps a look-alike or twin.
Either way, Springfield will have to mourn the loss of Beth, at least temporarily. Her death sets up young Lizzie for yet another heartbreak. Last year, Lizzie's stepfather, Jim LeMay was killed in a tragic holiday fire.
Chamberlin is expected to be back on the screen by the end of September.
CLICK HERE FOR A BEHIND-THE-SCENES LOOK AT HOW THE FLOOD SCENES WERE CREATED