Every performer has their own unique way of getting into character. Some actors sit quietly in their dressing room and meditate while others study their lines for hours while trying to determine how their character would react. For Beth Chamberlin (Beth Raines and Lorelei Hills), the best way to get into character is to keep a diary.


OWN YOUR OWN COPY!
If you'd like to get your hands on a copy of Lorelei's diary -- now you can. Click on the link below and you can buy a copy online at 30% off the cover price!


CLICK HERE TO BUY
OR BROWSE THIS BOOK
"When I work, I normally use a diary to help me understand what my character is thinking and feeling," says Chamberlin. "I'm not only telling the audience whom Lorelei is in total, I'm also telling them how I work as an actress. I am giving them some insight into Beth Chamberlin as well."
In this case, the diary Chamberlin kept as an acting tool ended up creating an entire backstory for Guiding Light. Contained within the diary, titled Lorelei's Guiding Light: An Intimate Diary, are elements of Lorelei's life and plot points that have never before been addressed by the show's broadcast. As Lorelei, Chamberlin reveals details about Lorelei's lover in Mexico, her high-roller life in New York and the friendship in Chicago she couldn't live without. Readers are able to peer into Lorelei's heart and soul and experience her innermost thoughts, schemes and desires.
According to a spokesperson, the book is something of a companion guide for Guiding Light, but the book also serves as a stand alone novel. In short, even someone who doesn't watch Guiding Light can enjoy the book and not feel left in the dark.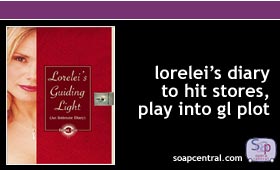 Guiding Light is not the first soap to publish a book tied to its programming. In 1997, ABC published "Having It All," an autobiography of All My Children's Erica Kane. One of the show's plotlines mentioned that the character was working on her autobiography. Weeks later, the book was released to the public and it instantly became a bestseller. More recently, NBC's Passions published "Hidden Passions : Secrets from the Diaries of Tabitha Lenox" in 2001. The book, which also quickly became a bestseller, explored backstory that was unaddressed by the show's broadcast.
Guiding Light execs are remaining tightlipped about how the novel itself will figure into the show's storylines. Chamberlin, however, has hinted that the book provides a catalyst for a major storyline that will play out over the course of the summer - and possibly beyond.
Lorelei's Guiding Light: An Intimate Diary, published by St. Martin's Press, goes on sale at retail outlets nationwide beginning June 24, 2002.
Chamberlin will embark on a book signing tour to help promote the new novel. Following is a list of areas in which she is scheduled to appear.
NEW ORLEANS:
Tuesday, June 18, 5:00 PM
Walmart
300 West Esplanade
Kenner, LA 70065
504-464-6268
ATLANTA:
Wednesday, June 19, 7:00 PM
Chapter 11 Books (Sandy Springs store)
6237 Roswell Rd.
Atlanta, GA 30328
404-256-5518
DAYTON:
Thursday, June 20, 12:30 PM
Books & Co.
350 E. Stroop Rd.
Dayton, OH 45429
937-297-6365
PITTSBURGH
Friday, June 21, 7:00 PM
Borders Books
Northway Mall
Pittsburgh , PA 15237
Phone:412.635.7661
NEW YORK, NY
Wednesday, June 26th 1:00 PM
Barnes & Noble Rockefeller Center
600 Fifth Ave (at 48th St.)
New York, NY 10020
212-765-0592
RIDGEWOOD, NJ
Saturday, June 29th, 1:00 PM
Bookends
232 E. Ridgewood Ave.
Ridgewood, NJ 07450
201-445-0726