The Spaulding dynasty lives on in Springfield.
Beginning later this year, former Dynasty diva Joan Collins will assume the role of Guiding Light's Alexandra Spaulding. In addition to her work on Dynasty, Collins has dozens of film credits in her portfolio as well as a host of tele-films. This will mark Collins' first foray into daytime television.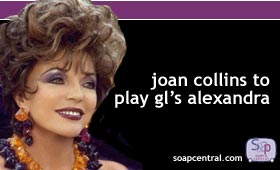 Collins will become the third actress to play the eldest Spaulding daughter. She follows Beverlee McKinsey, who created the role in 1984 and held the part through 1992 and Marj Dusay, who began a six-year off-and-on run in 1993.
Whether Guiding Light executives would have wanted Dusay to reprise her role is unknown; the actress is currently signed to a multi-year deal with ABC's All My Children. The move to land Collins, however, comes as a great publicity move for the show. Guiding Light's ratings have dipped to record lows - below a 3.0 (where one rating point equals just about a million viewers).
Collins' first airdate has not yet been determined, but is expected to come as early as September. Collins' stint as Alexandra will last approximately six months.