Rumors of Elizabeth Keifer's (Blake Marler) future with Guiding Light continue to swirl. While one set of rumors have the actress leaving the show, others hint that the actress isn't going anywhere.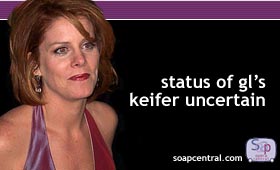 Published reports have Keifer's co-star, Jerry verDorn (Ross Marler) confirming that the actress has been taken off contract. Essentially, that would mean that Keifer has been let go, but it doesn't necessarily mean that the actress would no longer be seen on-screen.
In the event that Keifer is let go from Guiding Light, at least one other soap has expressed an interest in having her aboard. ABC's All My Children is reportedly talking to Keifer about her post-GL career. The show is said to be introducing a new character to its canvas later this year and there is a strong desire to bring Keifer aboard in that role.
The good news for Keifer fans is that at least one show insider hints that Keifer will be offered a new contract upon the expiration of her current pact. If offered a new contract it is unclear if the actress would opt to remain with the show, move on to a new soap or perhaps step away from daytime entirely.
Keifer joined Guiding Light in August 1992.
Grant Aleksander to return to Guiding Light. [Nov 10, 2008]