A spokesperson for Guiding Light has now confirmed that Jordi Vilasuso (Tony Santos) will exit the show during the first week of October. The role of Tony Santos will be recast.
As first reported by Soap Central back in May, Vilasuso announced that he planned to leave Guiding Light during a backstage interview at this year's Daytime Emmys.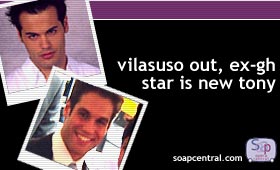 "The experience of being on Guiding Light for a young actor like myself is priceless," Vilasuso said. However, the daily routine can't afford Vilasuso the different opportunities that he is seeking as a performer. "I don't want to be in a very comfortable position right now. I want to take risks."
Word surfaced shortly after the Emmys that Vilasuso might be reconsidering his departure from the show. A pilot the actor had filmed for the fall television season was not picked up by FOX, but the series could still appear as a midseason replacement,
Vilasuso had also stated during his post-Emmy interview that Guiding Light executives had already contacted a performer that they wanted to succeed him, though he declined to name names. Internet gossip immediately selected former General Hospital star, Coltin Scott (ex-Nikolas Cassadine) as the frontrunner for Vilasuso's role.
Scott - who is now going by his birthname of Stephen Martines - has, in fact, been tapped by Guiding Light to take over the role upon Vilasuso's exit. Scott appeared as Nikolas Cassadine on ABC's General Hospital from 1999 to 2003, until he was replaced by his predecessor in the role. Martines' rep explains that the actor made the decision to revert to his birth name following the death of his father.
"He decided to use [Coltin Scott] when he went to General Hospital, and I don't think he was ever comfortable with it," Martines' rep states.
"We're very happy about [Martines joining the show]," saus Mickey Dwyer-Dobbin, executive in charge of production for Procter & Gamble Productions.
Vilasuso, who originated the role of Tony Santos in August 2000, will last air on October 3rd. Martines first airs on October 15th.
RELATED STORY: VILASUSO NAMED OUTSTANDING YOUNGER ACTOR
Photo: Dan J Kroll/Soap Central