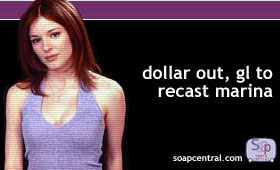 As previously reported by Soap Central, actress Aubrey Dollar (Marina Cooper) will exit Guiding Light at the conclusion of her contract.
Dollar joined Guiding Light in January 2002. Dollar was the fourth actress to play the part of Frank and Eleni Andros Cooper, but she won't be the last.
Rumored to be up for the role of a recast Marina is former The Young and the Restless star Ashley Bashioum. Bashioum earned praise from fans of Y&R for her portrayal of Mackenzie Browning. The actress played on Y&R from February 1999 through February 2002. Upon her departure from Y&R, Bashioum expressed a desire to focus on acting opportunities outside of daytime television.
While other actresses have also auditioned for the role, a spokesperson for Guiding Light was unable to comment on who is being considered for the role.
Dollar's final airdate has not yet been determined.