Two time Emmy Award-winning actress, director, and producer Ellen Wheeler has been named Executive Producer of Guiding Light, effective immediately. Wheeler will replace outgoing EP John Conboy. The announcement was made February 23rd by Mary Alice Dwyer-Dobbin, Executive-in-Charge of Production for Procter & Gamble Productions, Inc.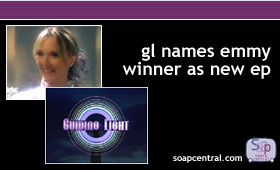 "This is a very exciting announcement for me to make," Dwyer-Dobbin said in a statement. "Ellen joined our Procter & Gamble family almost 20 years ago and has since been an invaluable asset working in almost every facet of production as an actress, director, and producer. Her genuine enthusiasm and creative, intelligent energy are infectious. She is one of the most well-respected people in our business, and that will serve her well as she takes the reigns of Guiding Light."
"I am thrilled to be rejoining the Guiding Light family. I look forward to working with the talented cast and crew as we build on GL's rich history and make it shine for future generations," adds Wheeler herself.
Wheeler's extensive background in daytime television includes her Emmy Award-winning portrayals of twins Marley Hudson and Victoria Love on Another World, and of Cindy Parker on All My Children. She has also appeared on Dark Shadows and The Bold and the Beautiful.
Wheeler, native of Cedar City, Utah, resides in Manhattan with her husband Shannon and their two children. She has been working behind-the-scenes as a Director on CBS's As the World Turns since July 1999, during which time the show received two Emmy Awards for "Outstanding Daytime Drama Series," and Wheeler and the directing team received three consecutive Emmy Award-nominations. In 2002 she produced and directed at Guiding Light, prior to returning to her directing post at As the World Turns in 2003.