Peter Simon (Ed Bauer) has once again opted to leave Guiding Light. Though unconfirmed by either the actor's rep or a show spokesperson, insiders tell Soap Central that Simon's exit is the result of a contract dispute.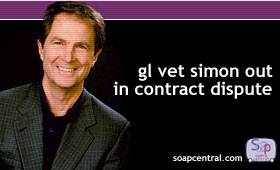 Following a six-year absence from the show, Guiding Light execs were finally able to woo Simon back to reprise his Emmy-nominated role. Simon joined the cast of Guiding Light in 1981, but left the show in 1984. After a two year break, Simon returned for a much longer, ten-year stay. Then, in February 2002, Soap Central reported that Simon was wanted back at Guiding Light. In May 2002, he rejoined the show.
According to show insiders, Guiding Light execs informed Simon that his contract with the show would not be renewed. However, it was asked that Simon continue on with the show on a recurring basis. Simon reportedly wanted no part of that.
A spokesperson for Guiding Light declined to comment on Simon's reported exit. Soap Central has learned that Guiding Light will again write off the character of Ed rather than recasting the role.