Emmy nominated and long-running Guiding Light star Grant Aleksander (Phillip Spaulding) has now taped his final episode with the CBS soap.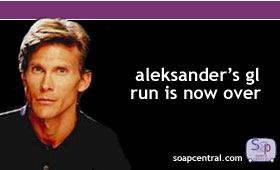 As previously reported by SoapCentral.com, Aleksander was told in late-August that his contract with the show would not be renewed. The announcement, which was said to have come as a major surprise to Aleksander and his co-stars, set off a wave of Internet scuttlebutt. Among the rumors batted around was that Aleksander had been let go because he was "difficult to work with" and that many of his female co-stars didn't want to share on-screen time with him. The rumors were quickly disputed by other Guiding Light cast members.
Aleksander joined the cast of Guiding Light in December 1982. With the exception of two two-year breaks in 1984 and 1991 and a three-year stint as Alec McIntyre on All My Children, Aleksander has been a part of the Guiding Light cast ever since. His most recent Guiding Light engagement started in 1996.
Aleksander taped his final Guiding Light appearance on October 13th. The episode will air sometime during the November Sweeps period. When a final airdate is released, it will be provided here. The role of Phillip Spaulding will not be recast.