Would you like to see Quinton and Nola return to GL?

Yes! It would be great to have these vets return to the show full-time.
56%
Maybe they could return for a few episodes, but nothing long-term.
20%
Honestly, I don't really want to see either of these characters return.
10%
It doesn't matter to me. If there's story for them, sure. Otherwise, no.
6%
I'm not really sure who Quint and Nola are, so I can't offer an opinion.
5%
I think that it would be fun to have Nola return to Springfield.
2%
At this time, I think I would rather just see Quint return to the show.
0%
Other
0%
Poll Posted: November 14, 2005
Lately, a trend seems to have slowly crept its way into most of the daytime drama series: the return of characters from years gone by. While the original actors might not always be portraying the role, it is this nod to history that some network execs are hoping will give the shows a boost in the ratings. With over 50 years of televised story under its belt, Guiding Light ranks as the soap that has the most show history from which to pull its stories from.
On November 6, 2005, legendary daytime actors Michael Tylo (
Quinton Chamberlain
) and Lisa Brown (
Nola Chamberlain
) sat down for a one-of-a-kind interview to reminisce about their beloved characters' fabulous history on Guiding Light, as well as the future of this hugely popular '80s supercouple. The interview, conducted by the "Quint & Nola Homepage," is the first time that Tylo and Brown have gotten together for an interview of this nature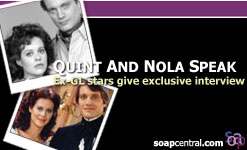 Michael is currently living in Las Vegas, Nevada, and teaching at the University of Nevada at Las Vegas. He frequently appears in plays in the Vegas area as well as on the East Coast. Lisa lives in New Jersey and recently completed writing a play with GL's
Michael O'Leary
(
Rick Bauer
). She is currently working with
Martha Byrne
(
Lily Snyder
,
As the World Turns
) on a music video for Martha's website. Lisa also directed music videos and DVDs for son Buddy Nielsen's emo rock band, Senses Fail.
In spite of their busy lives and Lisa's previously announced acting retirement, both actors would love to please their numerous fans by reprising their roles on Guiding Light. With the recent loss of longtime vet
Jerry ver Dorn
(
Ross Marler
) to ABC's
One Life to Live
, the return of Quint and Nola - given the amalgam nickname of "Quola" -- could serve as an obvious "make good" to longtime fans. It would also be a fitting tribute to the show's glorious history and to the late head writer Douglas Marland, who crafted these characters. Michael and Lisa both promise their fans that any return would not be a repeat of the failed "Quola" redux of the 90s. "There's like a watchdog group now [...] that will make sure when it's done, it's done right, and they have to listen," says Tylo.
While Lisa and Michael are recognized by fans all the time, those in the industry that would have truly appreciated the impact that bringing these stars back to television are no longer around. "Those people that knew ["Quola's" popularity], are gone. They are retired," states Brown. But the fans remember, particularly those fans that have given up on tuning into Guiding Light every day.
The "Quint & Nola Homepage" content producer, who is also a director of production for a major cable network adds, "Our site receives letters all the time from women who were young girls at the time of the Quinton and Nola romance from 1981-85, and they are still well within the important 18-49 female demographic. But, they stopped watching years ago. They would come back, though, to see this unforgettable couple and actors who evoke such incredible affection and nostalgic memories of childhood."
To read the entire hour-plus transcript or get your MP3 download of it, please check out the "Quint & Nola Homepage" at
www.quintnola.com
Read the entire hour-plus interview or download an MP3 to listen to the interview.