Would you like to see Tom Pelphrey return to Guiding Light?


I'd love for Pelphrey to return to GL. I've really missed him since he left
46%
I am not a fan of Jonathan, so I would prefer that Pelphrey not return.
34%
I miss Pelphrey, but I don't think that the time is right for him to return
20%
I have no opinion about Pelphrey's possible return.
0%
I don't think there's any truth to the reports that Pelphrey may return.
0%
Other
0%
Poll Posted: June 25, 2007
Though a Guiding Light spokesperson remains tight-lipped about the news, Soap Central has learned that Emmy winner
Tom Pelphrey
(
Jonathan Randall
) has returned to work on Guiding Light.
As reported last month
, sources close to the show had reported that the actor and show execs were in talks about a possible return.
An exact first airdate is not yet known for Pelphrey's on-air return, however, the actor has already taped his first scenes. Those scenes are expected to air later this month. And in other news of uncertainty, Pelphrey's return is slated to be only short-term, with the actor once again exiting the show this fall.
Nevertheless, Pelphrey's return is apparently a big deal for the CBS soap. In September, Simon and Schuster will publish a book that chronicles Jonathan's life after he staged his death. The book, "Guiding Light: Jonathan's Story" will be available for all major book retailers and can also be pre-ordered through Amazon.com.
The release of a book surrounding a soap opera storyline is nothing new. As the World Turns, which, like Guiding Light, is also produced by Procter & Gamble, released a tell-all book, "Oakdale Confidential," last year. The release was a success, with "Confidential" charting on the bestseller list. Other soaps have also published books. All My Children's fictional Erica Kane released a real-world autobiography, "Having It All" and One Life to Live featured a whodunnit story that was based on a book called "The Killing Club" that was penned by one of its characters. General Hospital and Passions have also featured book tie-ins.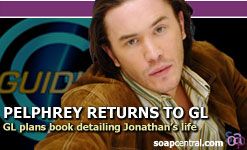 It is unclear at this time which came first -- the idea for "Jonathan's Story" or Pelphrey's decision to return. It is likewise unclear whether or not the show would have recast Jonathan if Pelphrey had not agreed to return or if the book and storyline would have been scrapped.
Pelphrey joined the cast of Guiding Light in September 2004. He received a third consecutive Daytime Emmy nomination this year for his work on Guiding Light. In 2006, Pelphrey was named Outstanding Younger Actor.
Pelphrey will appear on Tuesday, July 31st, Wednesday, August 1st and Thursday, August 2nd.