Tom Pelphrey (Jonathan Randall) will return to Guiding Light in 2008. The actor returns to the show so that Jonathan can tend to some "unfinished business."
"Look for him in the new year when Jonathan comes back to resolve some unfinished business," a Guiding Light spokesperson teased in confirming Pelphrey's impending return.
Would you like to see Tom Pelphrey return to Guiding Light?


I'd love for Pelphrey to return to GL. I've really missed him since he left
46%
I am not a fan of Jonathan, so I would prefer that Pelphrey not return.
34%
I miss Pelphrey, but I don't think that the time is right for him to return
20%
I have no opinion about Pelphrey's possible return.
0%
I don't think there's any truth to the reports that Pelphrey may return.
0%
Other
0%
Poll Posted: June 25, 2007
It is unclear how long Pelphrey will stick around. Pelphrey joined the cast of Guiding Light in September 2004. After winning an Outstanding Younger Actor trophy at the Daytime Emmys in 2006, Pelphrey announced that he would soon be exiting the show. Pelphrey stuck around a little longer than expected before finally exiting in February 2007. The actor was lured back to the show for a three-day appearance in July and August, a return that helped to wrap up some loose endings for his character -- and coincided with the release of a book about Jonathan's life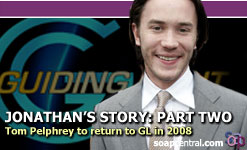 In September, Simon and Schuster published a book chronicling Jonathan's life after he staged his death. The book, "Guiding Light: Jonathan's Story," is still available in select bookstores and through online merchants. [Click here to order the book online via Amazon.com.
Pelphrey makes his debut the week of January 21st. The show declined to comment on the length of the actor's return.