Peter Simon (Ed Bauer) is headed back to Springfield. It's been nearly five years since the beloved doctor made a somewhat controversial exit from Guiding Light, but the actor will return later this month as part of the show's swan song on CBS.
In 2003, Simon expressed his unhappiness over a storyline that rewrote a substantial chunk of Guiding Light history. Moreover, in the same story, Ed Bauer was required to hit his daughter, Michelle, something that Simon said would never have happened. The actor was taken off contract and offered the chance to remain on a recurring basis. Simon turned down the offer.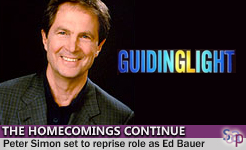 It wasn't the first such controversial storyline for the actor. In 1993, Ed's wife, Maureen, was killed in a car crash after she learned that her husband was having an affair. Many fans have said that Maureen's death signaled the death of Guiding Light -- and many fans vowed never again to watch the show.
Simon joined Guiding Light in 1981. He took a two-year break from the show in 1984, but then began a ten-year run with the show when he returned in 1986. In 1994, Simon received an Emmy nomination in the Outstanding Lead Actor category.
Ed Bauer returns home to Springfield on June 23.
Nancy St. Alban returning as Michelle Bauer. [May 4, 2009]