The roller coaster relationship between Claire Labine, Procter & Gamble Productions and CBS' Guiding Light has taken yet another wild turn.
Effective immediately, Lloyd "Lucky" Gold will take over the head writing duties of Guiding Light. Gold's ascension to the top scribe position comes at the expensive of the writing team led by Labine and her children, Eleanor and Matt.
Labine's tenure at Guiding Light was riddled with almost as much drama - or possibly more - than the show's storylines. Labine joined Guiding Light on June 5th of last year. In November of the same year, a statement was released by P&G stating that Labine had been fired. Less than two weeks later, the statement was retracted and it was announced that Labine was back on board.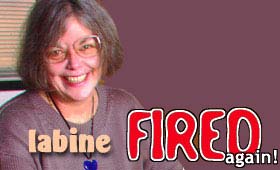 "I have had the honor of working with Lucky Gold in the eighties and nineties," said GL Executive Producer Paul Rauch. "He is a gifted and prolific writer, who has a real affinity for Guiding Light." Rauch added, "I would like to thank Claire, Matt and Eleanor Labine for the creativity, enthusiasm and energy that they have brought to the show during the past year."
"I am delighted that Lucky Gold will be joining Guiding Light in the capacity of Head Writer," said Mickey-Dwyer Dobbin, Executive-in-Charge of Production for Procter & Gamble Productions, owner and producer of GL. "His personal history in the daytime genre combined with his more recent work in the film industry provides him with a keen knowledge of character, structure and storytelling ability."
Dobbin has a similar statement last year when it was announced that Labine was joining the team. Said Dobbbin of Labine, "She has a deep respect for the show's rich history and the extraordinary ability to write character driven stories."
Of course, Labine's ouster has more than fanned the fires of Internet gossip. Some unproven chatter claims that Labine was un-fired back in November after legal action was threatened against the show. Other gossip claims that Labine was never intended as a long-term head writer. In essence, she and her writing team were only temporary placements until the show was able to find a permanent head writer.
As eluded to by Paul Rauch, Gold is not a stranger to daytime television. Born and raised in Dalton, Georgia, Gold is a graduate of Emory University and received his Master of Fine Arts degree from Brandeis University. He first arrived in New York as a playwright whose works, A Grave Undertaking, Sweet Basil, Power & Light, and Passover were performed in regional theater. Later in his career, Gold wrote scripts for the daytime dramas Another World (1982-1985) and One Life to Live (1985-1997). During these stints, Gold worked for Rauch, who served as Executive Producer at both programs.
Upon leaving One Life to Live, Gold was put under contract at Miramax Films for a multi-picture deal, where he worked on such movies as House of Angels, an adaptation of a Swedish film; the remake of the James Stewart/Kim Novak/Jack Lemmon classic, Bell, Book & Candle; and an adaptation of the novel Flanagan's Run. In addition, Gold's television credits include Showtime's Rapture starring Michael Ontkean and Karen Allen and USA Cable's The Secret Passion of Robert Clayton with John Mahoney. He is currently at work on a Showtime movie for Craig Anderson Productions.
Gold, who lives in Manhattan, is married to actress/writer Kari Jenson, and is the proud father of two daughters, Stella and Solveig.