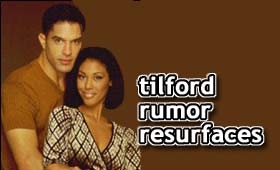 Reports that Terrell Tilford (David) will leave Guiding Light when his contract expires are once again swilring. The rumor popped up earlier this year when sources claimed that both Tilford and Victoria G. Platt (Vicky) would be exiting the show when their contracts expired.
Tilford's contract is said to be up in August, but a source hints that the actor might be sticking around. The source did not speculate on whether or not the actor would work without a contract, sign a short-term contract or ink an entirely new long-term deal.
In much happier news, Tilford and Platt are engaged to be married. Tilford popped the question to Platt on Christmas Day of last year.
Tilford joined Guiding Light on June 7, 1998.



Paul Anthony Stewart back as Danny Santos. [May 5, 2009]