Soap Central joins the soap opera community in mourning the death of Mary Stuart (Meta Bauer). Stuart, a member of the Soap Opera Hall of Fame, died at February 28th at her home in New York City due to complications from a stroke. She was 75.
"I had the great opportunity to meet Ms. Stuart several times at GL events and can tell you that she was just as sweet and honest as the characters she played," recalls Soap Central Guiding Light Two Scoops columnist, Kimberly. "She was a true lady and will be missed be all those whose lives she touched."
Stuart joined the cast of Guiding Light in November 1996. The actress is best known for her long-running work as Joanne Gardner Barron Tate Vincente Tourneur on Search For Tomorrow. Stuart had an amazing 35 year run on the program from 1951 through the show's finale in 1986.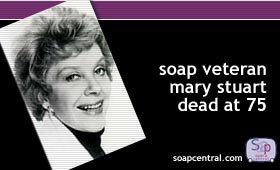 Born on July 4th, 1926 in Miami, Florida, Mary was raised in Tulsa, Oklahoma. Stuart started her career when she was 12, singing with local bands, and working with the USO at area military bases during high school. After graduation, she worked briefly as a photojournalist in order to pay her way to New York to pursue her acting career.
Stuart's big break came while she was working as a nightclub photographer and a hat check girl at the Hotel Roosevelt Grill in New York City. She sang with the hotel band, which led to a screen test - and eventually a contract - with MGM. From there, Stuart had dealings with some of the great names of Hollywood: she posted in a bathing suit for Clark Gable's publicity photos, she stood in for Bette Davis and she appeared in The Girl From Jones Beach with Ronald Reagan. Stuart also attended acting classes with Jack Lemmon.
During Stuart's run on Search For Tomorrow, the show wrote her second pregnancy into its storylines. This marked a first for then-live daytime television. An apron worn by Stuart's character during the series is on display at Washington's Smithsonian.
"Guiding Light, Procter & Gamble Productions and the entire daytime world has lost a woman, an actress and a friend," says Mary Alice Dwyer-Dobbin, executive in charge of P&G Productions, which produces Guiding Light.
Stuart taped what would turn out to be her final Guiding Light scenes on February 26th. An airdate for those scenes has not yet been announced. Inquiries into how the show would handle Stuart's death were not returned by post time.