Though her contract doesn't expire until well into 2004, Emmy nominated actress Lindsey McKeon (Marah Lewis) has already announced her intentions to leave Guiding Light.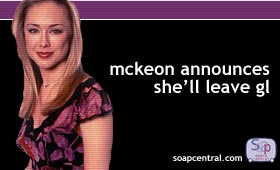 "I hate to say it because of the fans, but that's where I'm going," McKeon reveals. "I want to do film. I want to do other things."

McKeon joined the cast of Guiding Light in November 2001. A few months later, McKeon was honored with her first Daytime Emmy nomination for Outstanding Younger Actress. In 2003, McKeon earned her second consecutive nomination in the category.

"I don't want to get stuck here," McKeon adds, noting that she could always return to daytime television somewhere down the line.

A spokesperson for Guiding Light had no comment on McKeon's announcement.