Mark Pinter is returning to Springfield, but not in the role that many long-time Guiding Light fans might be expecting.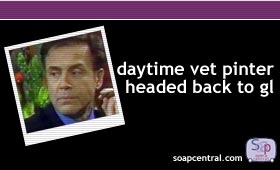 Pinter will assume the role of Brad Green next month from fellow soap vet Michael Swan. Swan, known for roles on As The World Turns, One Life to Live and The Bold and the Beautiful, has reached an agreement with show execs to part ways. According to Swan, traveling from his West Coast base to tape scenes for New York-based Guiding Light became cumbersome.

Pinter recently ended a run on All My Children as Roger Smythe. The actor appeared last month in a one-day cameo on the soap. Pinter previously appeared on Guiding Light as Mark Evans from 1981 to 1983. He also appeared on GL's Procter & Gamble sister soap, As The World Turns as Brian McColl from 1984 to 1987.

Pinter marks his return to Guiding Light on December 12th.