David Kreizman has been named the new head writer of Guiding Light. The announcement comes just two weeks after a soapcentral.com report that questioned the status of Ellen Weston's status as the show's top scribe.
"I am delighted to announce Dave's new role at Guiding Light," said Mary Alice Dwyer-Dobbin, Executive-in-Charge of Production for Procter & Gamble Productions, Inc.
Kreizman, a 29-year-old former intern, previously held the position of associate head writer since 2002.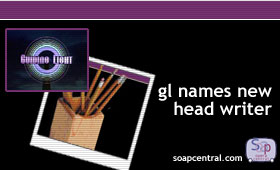 "He began his career as a production intern and has proven himself to be an invaluable asset ever since. He is a gifted storyteller with a deep respect for Guiding Light's rich history. I am certain he will guide the show with passion, warmth, humor and humanity."
"Dave's enthusiasm and energy for storytelling is infectious," added executive producer Ellen Wheeler. "He has a tremendous love and respect for the Guiding Light characters. His strong vision will propel Guiding Light into the forefront of dynamic soap opera."
Kreizman joined Guiding Light in 1995 as a production intern. In 1996, he was named production coordinator. A year later, Kreizman became an associate producer. Kreizman's writing career with Guiding Light took off in 1997 when he began writing scripts and breakdowns. In addition to his work on Guiding Light, Kreizman also served as a writer for the MTV series Spyder Games. His work on Spyder Games earned him an Emmy nomination. In his career, Kreizman has earned three Emmy nominations and three Writer's Guild nominations
Kreizman replaced Ellen Weston as head writer. Weston was named head writer in December 2002.