Despite headlines to the contrary, Kim Zimmer (Reva Shayne) is not leaving Guiding Light. For a while, though, it did look as though the three-time Daytime Emmy winner might be on her way out.

As reported by Soap Central in a related news article, Procter & Gamble Productions, the company in charge of producing Guiding Light (and sister-soap As the World Turns), announced last month a series of unprecedented steps to help cut the show's budget. Among the money saving ideas included in the proposal is an across-the-board pay cut for all of the show's performers.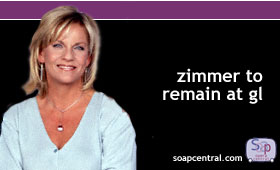 Due to the way her contract is structured, Zimmer was one of the first of the show's on-screen talent to have her contract up for renegotiation under the planned budget cut. Zimmer wrapped up the second year of a three-year deal with Guiding Light on May 20th. However, many soap contracts feature an "out clause" that allows the network to cancel the deal at the end of each year of the deal. The clauses allow for the network to rid the canvas of characters that might not be gelling with the show's story.

In published interviews, Zimmer expressed an unwillingness to be forced to accept a pay cut during the middle of a contract.

"I will be more than happy to renegotiate a contract at the end of my existing contract," Zimmer said in a statement.

Mary Alice Dwyer-Dobbin, executive in charge of production for Procter & Gamble Productions, asserts that "Kim is under contract to Guiding Light," but adds that it is not policy to discuss contract negotiations or budgetary issues.

Zimmer's decision not to renegotiate her contract mid-term led to announcements on various web sites that the actress had been fired. That prompted a spokesperson for the actress to issue a statement clarifying the matter.

"Kim Zimmer was not fired," the statement read. "Kim never mentioned having been fired. What she said was, when she declined a renegotiation mid-contract [the producers] would have the option to fire her, which they didn't do. Kim remains under her original contract until July of 2006."

"My heart is and always will be with Guiding Light," Zimmer added in a statement. "I'm happy to say that I'll be a part of the show until the end of my existing contract — and then some."

P&G is said to have backed down from its demand that Zimmer take the pay cut. Meanwhile, the planned budget cuts are said to still be in the works for other cast members.

Had Zimmer and P&G not come to terms, the actress could very well have taped her final Guiding Light scenes on July 3rd. Zimmer, however, will continue in the role that she created in November 1993. She earned Outstanding Leading Actress Emmys for her work in 1985, 1987 and 1990.