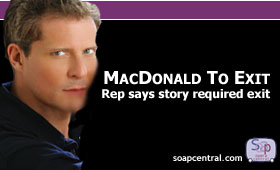 The cast cutting at Guiding Light continues. The last casualty of the show's belt-tightening is David Andrew MacDonald (Edmund Winslow). While the axing of MacDonald has been the subject of Internet speculation for a few weeks, the show has just now confirmed the actor's exit.
Talk of MacDonald's exit first surface this summer as his on-screen persona took a much darker and despicable turn. Many fans felt that some of his crimes - kidnapping and imprisoning Dinah and stealing Michelle's baby - made his character unredeemable.
A show spokesperson explained that MacDonald's exit is "storyline-dictated."
MacDonald joined the cast of Guiding Light in June 1999. A final airdate has not yet been made available.