Crystal Chappell (Olivia Spencer) can forget about any plans that she may have had to leave Guiding Light. The show's brass informed the star that she would be held to the terms of her recently-signed contract. In short, the higher-ups refused to let the Emmy-winning actress out of her contract.
It was last month that Soap Central first reported that Chappell wanted out of her Guiding Light contract. With that exit came word that Chappell was in talks to join the cast of rival soap One Life to Live. Chappell issued a statement confirming that she wanted to effectively be let go from Guiding Light, but stopped short of saying that her desire to leave was prompted by another offer.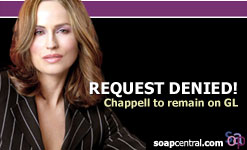 "I did ask to be released from my [Guiding Light] contract," Chappell confirmed, "but for my own reasons. It's not about going anywhere else."
An insider tells Soap Central that Guiding Light execs refused to let Chappell leave because the show has already suffered the loss of top talent due to sweeping budget cuts. Now that the mass firings have come to an end, the show wasn't about to risk losing any more marquee names.
Officially, a Guiding Light spokesperson declined to comment on the situation, instead issuing a statement teasing a future major storyline for the actress.
"Crystal re-signed with the show two months ago," a spokesperson told Soap Central. "We are thrilled that she did it and excited that she will remain a part of the Springfield canvas. We have great story ahead for Olivia."
Chappell joined the cast of Guiding Light in July 1999. In 2002 the actress was awarded the Daytime Emmy for Outstanding Supporting actress.