The Guiding Light cast will soon shrink by one as another member of the cast has decided not to renew their contract. In an announcement on her official web site, Crystal Hunt (Lizzie Spaulding) revealed to fans that she will soon be exiting the show.
"I would like to let you know that I have decided not to renew my contract at Guiding Light," Hunt said in her announcement. "[In 2004,] After working at GL for a year on recurring status, I signed a two-year contract that will be ending very soon. This has been a difficult decision for me, but I feel that it is time for me to test the waters and see what is out there."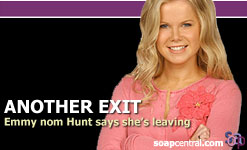 Guiding Light was Hunt's first foray into daytime television. But she soon earned praise for her work and in 2005 earned a Daytime Emmy nomination in the Outstanding Younger Actress field.
"My time at GL will always be precious to me because my co-workers and fans became my family. I love all of the memories that I have and the friends I have made," Hunt continued. "I want to thank all of my fans for the generous love and support they have shown me. I couldn't ask for better fans or a better experience than the one I had at Guiding Light."
Hunt's contract is set to expire in late-January and, according to a show spokesperson, the role of Lizzie will be recast. Hunt, however, is expected to continue airing until a replacement is found, possibly through March 2006.
"We can confirm that Crystal will be leaving the show and the role of Lizzie will be recast," the spokesperson tells Soap Central "We are so sad to watch her go and wish her the best of luck."