Last year, it may have seemed like every time a news story broke on the Soap Central site it had something to do with another firing at Guiding Light. By now, soap fans know that last year the beleaguered soap had to slash its roster in order to balance its budget.
But 2006 is a new year - and what a difference a year can make.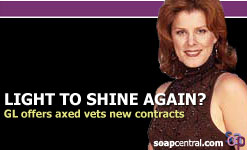 Guiding Light performers dominated this year's Daytime Emmy nominations, announced earlier this month. In total, nine actors were given nods for television's top prize. And now, there is word that Guiding Light, which will celebrate its 70th anniversary in 2007, may actually be going on a hiring spree.
Beth Chamberlin (Beth Raines), Elizabeth Keifer (Blake Marler) and Michael O'Leary (Rick Bauer) have all reportedly been approached by network brass toting new contracts. There is nothing special about the contracts - they are all said to be standard issue 13-week deals - but this does represent a dramatic turn around for the show.
After nearly 20 years with the CBS soap, O'Leary was dropped to recurring status in 2005. Chamberlin, a 14-year veteran, and Keifer, who'd been with the show since 1992, were both taken off contract in 2003.
A spokesperson for Guiding Light reminds Soap Central that it is not show policy to discuss contracts.