In what would be a major loss to the show, insiders are reporting that Emmy-nominated Tom Pelphrey (Jonathan Randall) will be leaving the show when his contract expires later this year.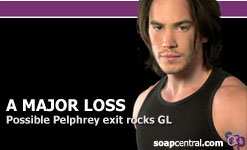 According to published reports, Pelphrey has landed a role in the yet-to-be-filmed motion picture, Spring Broke. The movie, slated for a 2008 release, will focus on three college students who travel to Cancun for Spring Break only to have a terrible chain of events ruin their vacation. Also slated to appear in the movie are Drew Seltzer and Reginald Huc.
Pelphrey has been nominated for two Daytime Emmys in the Outstanding Younger Actor field, in 2005 and 2006.
When Pelphrey joined the cast of Guiding Light in September 2004 he had little in the way of acting experience. The actor signed a two-year contract, which would mean that his contract with the show would be up at or near the end of August.
A spokesperson for Guiding Light did not return requests for a statement.
Pelphrey reveals he's staying ... but for how long? [May 24, 2006]