02.29.08.


The enigmatic code has appeared at the end of episodes of Guiding Light for several days. Fans have been left scratching their heads, wondering what the numbers mean. The numbers, which many astute viewers have figured out point to this year's Leap Day - are not meant to pay homage to the quadrennial event. Rather, this is the date that Guiding Light takes a leap of its own into the future of dramatic daytime storytelling.


On February 29th, Guiding Light will debut a brand new look to its daily episodes. The new style represents a total transformation in the way the show is created. Gone are the archaic three-walled sets and in are permanent four-wall sets with actual ten-foot high ceilings. Having permanent sets will dramatically cut the cost of having to construct and dismantle sets as they are called for by the show's story.


Also out are the cumbersome 300-pound pedestal cameras that have been used since the days of classic 1950s television sitcoms. The old cameras will be replaced with agile handheld mini-cams, weighing only eight pounds apiece. The new cameras will capture scenes from within the rooms they're set in. The cameras can be placed so close to the action that the audience will see what the character sees, and feel as the character feels. Wherever the character goes, the camera can follow.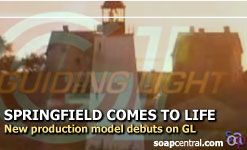 "Soap operas have been shot, by and large, the same way since the 1950's, the same way 'I Love Lucy' was shot - with pedestal cameras, in just a few interior sets," explains Executive Producer Ellen Wheeler. "Our audience is sophisticated enough to understand that's old-fashioned, and it isn't working for them anymore."


Once limited by space constraints to only eight permanent sets, Guiding Light will now feature a remarkable thirty to forty permanent sets. Viewers will enjoy nearly unlimited access to formerly obscure rooms in glamorous mansions and humble apartments, businesses and hotels, hallways and stairwells, alleys, loading docks, and sidewalks. This will dramatically increase storytelling potential and intimacy with characters.


"Our fans want to see more of our character's lives - from the houses they live in, to the cars they drive, to the experiences they have in their everyday lives," Wheeler says.


To expand set potential even farther, production executives will be giving up their personal offices for filming.


"My office also functions as an office and a church," Wheeler says with a smile. "There are pews lined up behind my desk. Another executive's office is a nail salon, another one doubles as a hotel room, and another has what we call 'the seedy motel room.'"


In addition to the new and expanded indoor sets, Guiding Light has partnered with the town of Peapack, New Jersey, a short drive due west of the CBS soap's Manhattan studios, for on-location outdoor scenes. Once a limitation because of the extreme costs associated with them, location shoots will now comprise up to 20% of a day's airtime.


"The changes will enable us to tell stories in a more intimate way, capturing real moments and engaging the audience on a deeper level," Wheeler explains, adding that the new format will bring Springfield to life. Using the old system, a scene as seemingly simple as showing a character getting out of a car was problematic and cumbersome, between the logistical hurdles of extremely heavy cameras, and outdoor shooting in general.


The changes being made to Guiding Light were not made in haste. They come after a year of research and experimentation. The goal of the changes was to find ways to produce a soap that not only compares favorably to the gloss of primetime, but also enables the show to compete with cable repeats of sophisticated primetime dramas airing on other channels during the day.


Soap ratings have been in steady decline for the past decade and ad revenue has decreased significantly, while at the same time inflation has driven production costs up. Despite the fragility this indicates, soap operas remain strong outlets for reaching female viewers. Soap operas were originally designed as a forum to market cleaning powders and soaps, and ironically, household products remain daytime's biggest sponsors. Procter & Gamble, which produces Guiding Light and As the World Turn, was a pioneer in both dramatic daytime television and the current filming format used by nearly all current soaps.


Daytime is still an attractive and lucrative option for advertisers. CBS executive Barbara Bloom says, "...daytime shows are still a vitally important part of the network, but you have to take a look at audience erosion and take it seriously. The way daytime looked was becoming a barrier in terms of bringing in new audiences."


Logging 71 years and 17,836 episodes, Guiding Light is the longest-running show in broadcast history.